Her Perspective
Article by Eliot Behr
March 24, 2019
Reading Time:
3
minutes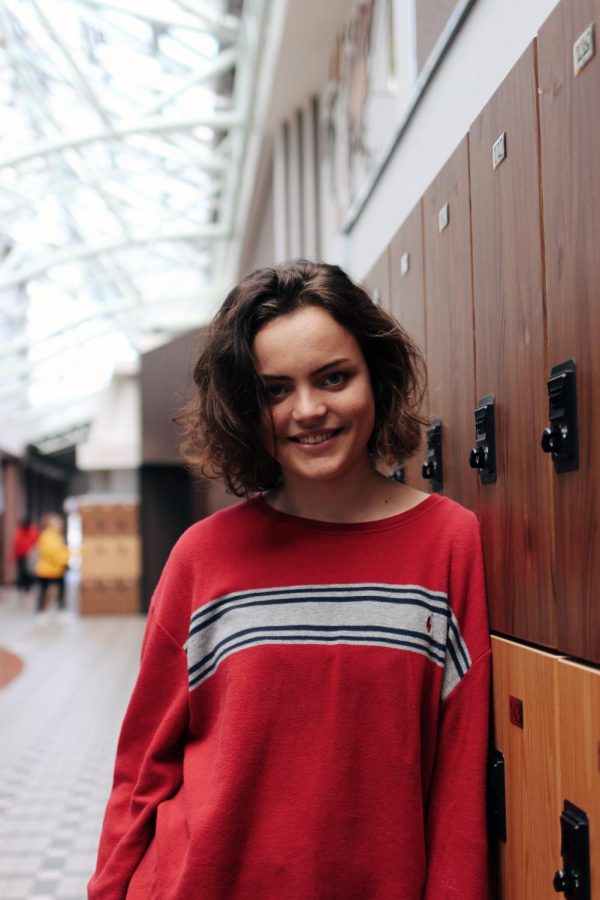 Although a Tokyoite by birth, she spontaneously concedes, "I can't really say that I'm from Japan." In America such non-observance of patriotism could prompt eyebrow-raises, yet her looks intuit understanding: blondish hair and olive eyes—all traits foreign to homogenous Japan. Any chances of hiding amongst the urban masses are stymied by a six-foot stance, causing her to stand out literally. Stuck on a tiny, isolated island, however, it seems that Leah Fahy has made her place.
Leah is the product of a family separated by the Pacific. Her father is from New Zealand, her mother a Puerto Rican American. Growing up abroad (including a brief time in Singapore) has given her a deep, almost instinctively broad perspective. She is, accordingly, open about her future professional plans, tactfully noting that they're still unclear. Leah remarks that she can see a career in International Relations, saying, "I kind of have the unique chance to see things in different perspectives than others can." In this manner, Leah's third-culture life has not just been a poignant talking-point, but rather something with admitted benefits. With a special-occasioned assuredness, she remarks, "Not knowing where you're from, is kind of being a part of everything."
Cognizable in Leah is a deep sense of commitment to helping others. Following up on her goals working in International Relations, Leah adds, "I don't know exactly what I want to do, so I'm not sure," before briefly pausing as if in a state of reverie. Having found her track, her voice comes floating back. She confidently continues, "Yeah, I don't know that, but I want to be doing something that is useful in some way." In comparison to attempts to bubble Leah into the definition of a "third-culture kid," particularly based on the "annoyance of its buzz-wordiness," Leah is satisfied to attribute herself a helper, proclaiming, "For sure, I guess I'm a helpful person. I'm kind of a helpful person."
The fact that Leah is a person open to debate means that the issue of nature-vs-nurture naturally comes up for discussion—soon, too, the topic of family finds its courage to emerge. Her household features routine family dinners, sometimes overly rife with talk. "They're really loud, they're so over-the-top, and you know looking for attention all the time," Leah comments. "No one really listens to each other, but I guess that's a lot of families." And just like any ordinary family of six, there's sure to be conventional, mostly innocent, conflict.
Discussing her siblings, Leah observes, "All of us are really different from each other." Notable is the fact that among them, Leah is the overachiever. Mentioning this, she remarks, "I've always tried harder than my siblings, but I don't really know why, maybe it's a need to make people happy." In part, Leah acknowledges that this has to do with lessening the stress of her parents, who themselves were the "Leahs" of their families growing up.
Leah also notes that she is the "mom" of her groups—both familial and at school. For example, settling arguments with her parents, Leah realizes that she is usually the one to interject. Elaborating further, she states, "My parents would have an argument, and each rant to me about it. And I'd have to be like well, 'He was probably doing that', or 'She was probably feeling like this.'" With a laugh, Leah acknowledges, "We're pretty tight, you know — when no one's fighting we all have a great time. It's mostly just teasing each other." Even among her friends, Leah elaborates, "I like to be the person who jumps in and tells people how and what they are saying is similar, and how they can combine their opinions."
One topic pops up a lot in conversation with Leah; as she admits, "It always comes back to Cross Country." Coming into the team at first, Leah explains, "I was the only freshman on Varsity. On the startline I was literally about to cry." The experiences of a senior friend uplifting her, and the guidance of Coach Welckle (whom she describes as her "favorite person/dad"), has helped Leah mature into a strong leading captain this year. Leah explains, "Our sophomores are the most talented people I've ever met, but still before races they go white and look like they're gonna puke. I've got to give them talks to calm them down." Topping off an impressive high school career, Leah was voted this year's MVP for Cross Country.
There's no doubt that Leah's success will continue. And with her broad perspective, there's also no telling where she might go.