Ukraine Must Fight Alone
Reading Time:
3
minutes
Early on Thursday morning, February 24, the United Nations Security Council (UNSC) entered the second day of crisis talks over the Russian invasion of Ukraine. Around the same time, Russian President Vladimir Putin declared that his country's forces had initiated a "special military operation" in Ukraine. The message was clear. President Putin was ready for battle, and unconcerned about international repercussions. In fact, one could argue he was openly goading the UNSC to retaliate against him. 
If the timing of the declaration failed to communicate his message, President Putin made his hostility towards outside involvement clear, when he stated that "whoever interferes with us [Russia] should know that Russia's response will be immediate and will lead to consequences never before experienced in history."
Ironically, the Russian Ambassador to the UN, Vasily Alekseevich Nebenzya, billed Russia's aggression as a "plan to protect the people [in Ukraine's Donbas region] from genocide." Since 2014, President Putin has stuck to the claim that their separatists, who reside in the Donbas region, have repeatedly had their rights violated by Ukrainians. This has long provided Russia with a pretext to intervene in its neighbor's affairs, under the excuse of peacekeeping. "Peace" arrived right as the UNSC session wrapped up, as explosions began to boom across major Ukrainian cities. 
It soon became evident that Russia's military operation was not solely constricted to a small warfront, but spread across the country. For weeks, bombs have erupted in and around Ukraine, with over 700 deaths having been reported. Even as Ukrainian President Volodymyr Zelensky continues to urge his citizens not to panic, Russian forces relentlessly pummel the country with land and marine-based attacks.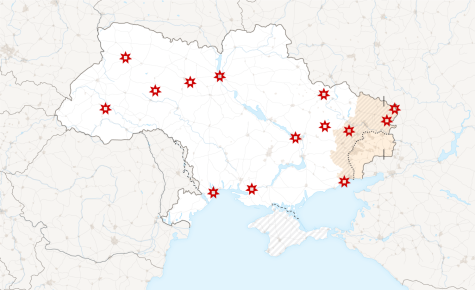 While the Western powers were quick to respond to Russia's aggression, one can argue that their efforts have been ineffective. Countries such as the United States, the United Kingdom, and France have committed to launching punitive sanctions against Russia, escalating the Kremlin's cost of war and harming the fragile Russian economy. Others have vowed tactical support, in the form of weapons and intelligence. 
However, this has not alleviated Ukraine's biggest problems — a lack of troops and firepower. 
For several weeks, Ukraine has been surviving with a small army of 361,000 people, supplemented by a rag-tag group of civilian volunteers. Disturbing images have surfaced of military instructors training Kyiv residents in basic combat practices, of volunteers preparing camouflage nets for the troops, and of teenagers helping build bunkers in case of emergency. Nationalist militias, led by ordinary citizens, have also emerged to join the fight. Speaking to the BBC, Ukrainian Member of Parliament, Lesia Vasylenko, has welcomed the punitive sanctions set upon Russia. But she did not mince her words when calling upon the international community to provide additional militia members. 
For now, these Ukrainians must fend off a preliminary invasion of 190,000 troops, and prepare for more, as Russia has vowed to continue the operation until the "conflict is resolved." Even with civilian support, any conflict would see Ukrainian forces heavily outgunned, as, according to Bloomberg, Russia operates on a $60 billion defense budget — far outstripping that of Ukraine's. Though Ukraine is equipped with Javelin missiles from Estonia and the US, Russia's superior arsenal and strategy put them at a distinct advantage.
For now, Ukraine can only hope to outlast Russian forces in battle, until the economic costs of war deter the latter. In these troubling times, the courage and persistence of the Ukrainians shine admirably. Ukrainian poet Taras Shevchenko puts his nation's tenacity best in this excerpt from his poem, Testament (translated by John Weir):
Oh bury me, then rise ye up
And break your heavy chains
And water with the tyrants' blood
The freedom you have gained.
[map image from New York Times]