From Hybrid to Face-to-Face
Reading Time:
2
minutes
For the first time ever in the 2020-2021 academic year, both Middle School and High School ASIJ students are now on campus at the same time. 
Previously, the Hybrid model necessitated by the coronavirus pandemic limited the number of students by separating the MS and HS on-campus days. However, the implementation of the Face-to-Face model now means that ASIJ students who had not seen each other in almost a year will now meet on a daily basis. 
With the exception of High School bus monitors, the amount of interaction between MS and HS students has truly been limited. This limitation is reflected in the number of changes that have accompanied the Face-to-Face transition. 
For one, due to conflicts in time between MS lunch and HS community time, HS students will no longer be able to access the Kiosk during their previous lunchtime. Additionally, several classes have been moved, with some classrooms being physically divided into two to create more space. 
The transition to Face-to-Face is more complicated than it seems. Several hundred additional students attending a pandemic-oriented campus daily was bound to bring about changes.
However, these seemingly limiting changes are overshadowed by the overwhelming amount of new benefits that are brought by the Face-to-Face model. With the creation of two new food and beverage spots — the Theatre Cafe and Courtyard Cart — students now have greater liberty regarding what and where to eat. It should go without saying that these benefits also contribute to ensuring that there are less clusters of students in a single area. 
Additionally, students can expect to experience a new sort of daily school life with the potential for MS-HS interaction. Whether on the bus, through clubs, or sports, there is now an increased number of opportunities for Middle and High School students to participate in collaborative activities. These opportunities give High School students the ability to demonstrate leadership, and for all students to strengthen their teamwork and communication skills with students that they may be less familiar with. These shifts in day to day activities will likely alter many students' school experience in a positive fashion.
The changes that the latter half of the semester will undergo are a response to the climate and situation of the ASIJ community. Of course, these changes will be accompanied with shifts in how students and faculty will interact with and between each other in their daily school schedule. It is therefore vital that all members of the community remain vigilant in their decision making in respect to ensuring the longevity of the Face-to-Face model.
About the Writer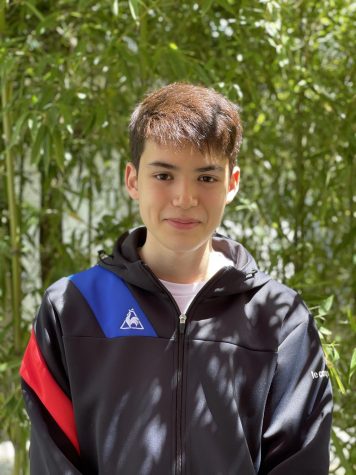 Ryne Hisada, section editor
My name is Ryne, really pronounced Ryan. I enjoy reading works of all sorts, and have recently discovered...