The Trial of El Chapo
Reading Time:
2
minutes
In our media-saturated society, crime, drug cartels, and corruption almost seem like more like a Hollywood fantasy than reality. But recently, the trial of the alleged drug kingpin and former leader of the Sinaloa cartel, Joaquín Guzmán Loera, better known as "El Chapo," reminded us just how real this world can be.
Though Guzmán has been incarcerated before, his trial in Brooklyn, New York represented the first time he has stood trial in the United States. Twice he was placed in maximum security prisons in Mexico, and twice he escaped: once in 2001 by hiding in a laundry cart, and once in 2015 through a trap door in his cell shower.
After Guzmán's 2015 escape, the Mexican and American governments worked together and recaptured him in 2016. A year later he was extradited to the United States, to wait for what promises to be a several-months-long trial.
Guzmán faces 17 indictments that include money laundering, drug trafficking, and conspiracy to commit murder. If convicted he could face life in prison. He has pleaded "not guilty" to all charges.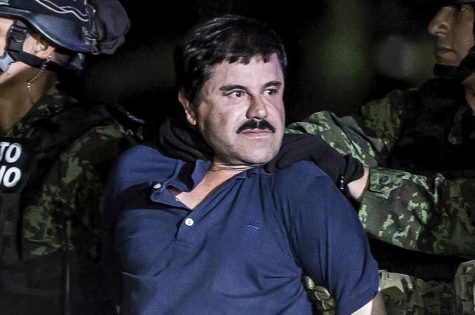 Beyond the charges, the myth of "El Chapo" looms large over this case.  He was considered the "most powerful drug trafficker in the world" by the U.S. Department of the Treasury, and the Chicago Crime Commission named Guzmán "Public Enemy Number One" for his influence over crime in Chicago. The last person to hold such notoriety was Al Capone.
There are stories of Guzmán wielding diamond encrusted AK-47's and living lavishly with billions of dollars, while also shipping tons of cocaine and other drugs all over the world. And, of course, there are tales of brutal tortures, murders, and corruption.
Because of his vast influence, security measures for this trial have been extraordinary, to say the least. All the witnesses and jurors are to remain anonymous, and all twelve jurors are escorted to and from court by armed U.S. Marshals.
Guzmán has been held in solitary confinement, for fear of him contacting his associates, and any time Guzmán has to be transported to court, the Brooklyn Bridge will be shut down. The judge even refused to let Guzmán hug his wife in court, citing security reasons.
In the end, regardless of the increased security measures required and the attendant media circus, this is a victory and for the United States and Mexico. Finally, a notorious and dangerous felon was brought to an American court, and finally, he will serve justice for his crimes.