A Hidden Epidemic: The Murders of Black Transgender Women
Reading Time:
3
minutes
In 2021, record-breaking numbers of transgender and gender non-conforming individuals were violently killed. The Human Rights Campaign reports that the number is at least 56—a 27% increase from the year before. The vast majority of these victims were people of color, with Black and Latina trans women disproportionately at risk. These individuals were killed by strangers, acquaintances, and even their own partners, showing that trans individuals are often not afforded the right to safety in many environments. 
The causes of these murders range from clear transphobic motivations to situational factors that put these individuals at a higher risk of experiencing violence. Trans individuals are more vulnerable to falling victim to circumstances such as poverty, homelessness, and unemployment—and even more so for trans people of color. This, in turn, makes them more susceptible to violence. 
Furthermore, this systemic discrimination, often coupled with interpersonal and institutional level discrimination, leads some trans individuals to partake in risky behaviors such as sex work, seeing it as the only feasible option for a source of income. In a 2015 survey by the National Center for Transgender Equality, 42% of Black trans women reported partaking in income-based sex work. Sex work puts people, especially trans people, at a higher risk of becoming victims of physical, sexual, and emotional abuse due to the "negative social attitudes and stigma toward sex workers."
Black trans women are even more vulnerable to these circumstances due to the intersection of their marginalized identities. Kerith Conron from UCLA's Williams Institute states, "They're black, they're transgender, and they're women. Each of those distinct identities means that they face discrimination, prejudice and inequities on multiple fronts." 
Beyond those 56 individuals killed last year, activists believe that there are likely many more victims of anti-trans violence that have not been and may never be identified. One reason for this is that police, their families, and media reports often misgender such individuals—whether unknowingly or intentionally. Another is the manner in which these cases of violence against the trans community are handled by law enforcement: many perpetrators of this violence are inadequately prosecuted. Rev. Louis Mitchell, a Black trans man who is the director of Transfaith, states, "There is this idea that somehow no one is going to look for these women, that they're so deeply disposable, and that level of disregard is horrible." 
Currently, only 22 U.S. states and Washington D.C. have hate crime laws that "create additional or enhanced penalties for crimes committed with bias" against sexual orientation and gender identity, further allowing these cases to fly under the radar.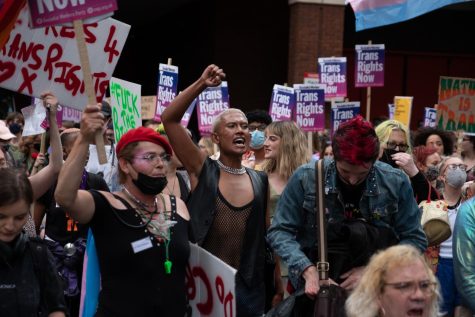 Scholars and activists alike believe that reducing these incidents of anti-trans violence must begin with addressing the myriad of social and systemic issues that the trans community faces. Whether it be due to the lack of familial acceptance, poverty, or any form of discrimination, trans individuals are at a higher risk of violence. In order to ensure the safety of the trans community, these concerns must first be tackled, while recognizing the heightened risk for Black trans women. Changing policies and attitudes to address these issues is the first step towards true justice for the hundreds of trans individuals whose lives have been lost or who have been harmed as a result of expressing their authentic selves.