Connecting ASIJ Alumni
Reading Time:
6
minutes
Hanabi recently had the opportunity to sit down with Ms. Liu, the Alumni Coordinator, and Mr. Wilce, the Director of Communications, to learn more about ASIJ's Alumni Office. They told us all about their work, from the purpose and history of the Alumni Office to the many great things we have to look forward to as future ASIJ alumni. 
1. What is the Alumni Office?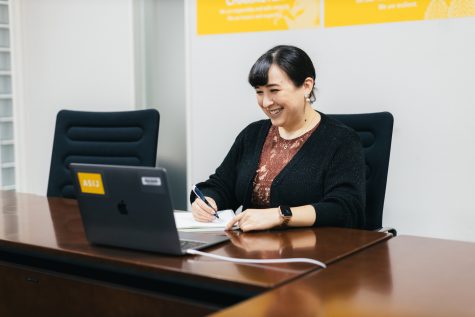 Ms. Liu: The Alumni Office is responsible for alumni relations, which means keeping all of our former students around the world in contact with the school and with each other. Among other things, we send out a monthly newsletter and host online and in-person events for alumni in the US and Japan. The Ambassador magazine is another one of our ventures, which many of you may be familiar with. Many of the people who are featured in the Ambassador are alumni that have gone on to accomplish amazing things in life. Keeping everyone in the loop on what alumni are doing is one of the main things we focus on.
2. Could you provide us with a brief background on the history of the Alumni Office? 
Ms. Liu: ASIJ is actually one of the oldest international schools in the world. So, naturally, we have one of the oldest alumni programs in the world as well. The first Alumni News that was published by ASIJ came out in 1919, so that's more than 100 years ago. We have had an official Alumni Office since the mid-70s. In the mid-70s, they started producing something called the "Alumni Shinbun," which continued until 1994, when the Ambassador magazine began. So as you can see, we have been keeping alumni connected to each other and the school for quite some time now. 
Kokoro: Do you feel as though the role of the office has changed over the years?
Mr. Wilce: There has certainly been a bit of a shift in the past few years. I think it's been around a lot of the stuff that's happening particularly in high school with your learning. There's been a lot more emphasis on doing more outreach into the community; you're encouraged with things like IMPACT and AP Seminar to have real-world mentors and to get information from experts in their field. So, there's been more connection between our alumni and current students, which is something our office helps facilitate. 
Ms. Liu: I think another change that I've been experiencing is COVID forcing us to take a lot online. As a silver lining, this has created a means for us to host events that allow alumni in both Japan and the U.S. to participate at once, like holding Zoom networking industry events. It's nice to have that chance to tune in from wherever you are to watch and take part in these events. 
3. What do students have to look forward to once they graduate? 
Ms. Liu: We have so much that you can look forward to! First of all, the monthly Alumni News email. In the email, there is also a "Jobs and Internships" section that contains updated links to jobs and internship listings from ASIJ alumni and networks who contact us. The email also contains information about upcoming events like networking industry events, social events, receptions, and on-campus events when possible. There is also exclusive alumni content and events; we try to keep the networking events that we hold small (just alumni) so that people can really get to know the speakers and attendees. 
Another thing to look forward to is our Alumni Portal, which seniors will receive the login information for as soon as they graduate. There is an Alumni Directory on there, so you can contact old faculty and classmates or senpai. There is a whole list of jobs and internships that are available in the portal as well. There are old yearbooks that you can look at, whether it's your old yearbook or your teachers' yearbook.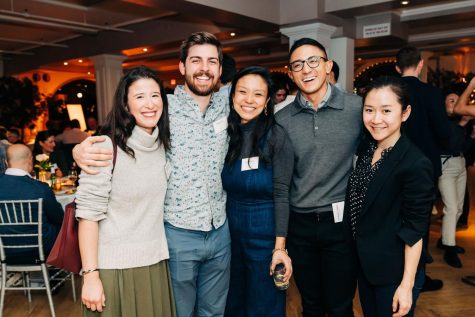 But most importantly, being one of the oldest international schools in the world, ASIJ has a huge network of people who have come here and accomplished many great things. So being an ASIJ alum means you have an inherent link to people like that. We have leaders in all sorts of industries around the world, like Kathy Lueders (an engineer who works for NASA), or Philip Chiang (the co-founder of P.F. Changs). Any field you're interested in, we have alumni in those areas. There is such a wide network of ASIJ alumni all around the world, so we want to help you have access to that network—whether it's for your career or socially.
Mr. Wilce: When you move to college and you're in a new city, there are regional groups you can connect with—not just with other students in university but with old alums as well. We also put on regional social events; our alumni council will likely be facilitating some too. The network is invaluable. You could not be better placed in a well-known and well-respected alumni network.
Ms. Liu: So, the most important thing for you and all of your peers to keep in mind is that we need to have you updated email address when you leave. A lot of people forget to give us that information, and then we can't contact you. 
Mr. Wilce: We can't invite you to a free party if we don't know where you are!
4. Is there anything new the Alumni Office currently working on?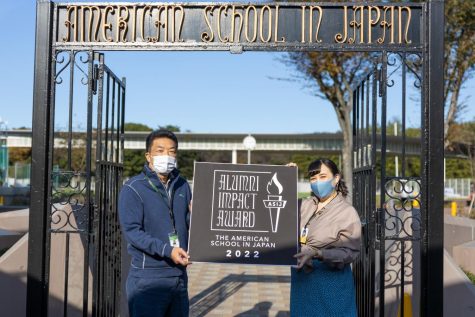 Ms. Liu: Yes, we are working on a bunch of new things this year that we are excited about. You probably haven't heard yet, but we introduced the ASIJ Alumni Impact Award. We are hoping to award this annually to alumni who have made an impact in their field or pursuit. With it, we hope to celebrate our really amazing alumni and raise more awareness of them in the ASIJ community and build some school spirit.
Mr. Wilce: We have actually invited the Student Council President to be a part of that selection committee for that award; we wanted to make sure that there was a student voice in that process. The winner will be announced later in the spring, so look out for that. 
Ms. Liu: We've also launched something that we're calling the Alumni Connect Career Forum. Alumni Connect is sort of a brand that we have of various industry and career-related content. These are either video or text posts on the ASIJ LinkedIn group that are from members of our community—not just alumni but current parents, alumni parents, and former faculty—sharing career insights for those early on in their careers or looking to make a shift in their careers to help them break into certain industries. 
We have also opened Alumni Connect City Networks, which are regional groups in six cities (in New York City, San Francisco, and Tokyo, and about to launch in Boston, Honolulu, and Seoul), and we're hoping to expand them. We really hope that this will be a valuable resource for you guys as you go to college or whatever your next step is. Seniors, if you want to connect with ASIJ alumni in the city that you're going to, please let us know.
We're also working on senior outreach, so you'll be hearing a lot more from me in the coming months. Starting from this year, we're trying to get into your advisory classes and provide more resources for you to learn more about the alumni program. We have some special gifts for you coming up as well! We're really excited to get involved with all of you as you make that transition into the next step after ASIJ. 
5. Is there any way current students can get involved?
Ms. Liu: We would absolutely love to have you get involved. We need help with office tasks. We send out letters and packages to people, so we have lots of envelope stuffing and stamping to do. If you want to get volunteering experience or if you want to know how an office works, please let us know, and we can put you on our list. If you are interested, then shoot me an email at alumni@asij.ac.jp. We would love the support. 
Another thing is to check the Ambassador. If you see it sitting on your coffee table, take a look at it, and see what different ASIJ alumni are doing. During normal times, there is a section highlighting in-person events like reunions or other receptions that happen. You can get a glance at what it's like to be an alum. 
Anyone who has specific questions, like if they're thinking they want to do an internship in a certain specialty, we can tell you if there are any alumni in that area that we can connect you to. You're welcome to shoot me an email at any time. Just because I'm the alumni coordinator doesn't mean I'm not happy to help current high school students as well.