Behind the Scenes with Mr. Gilmartin
Reading Time:
5
minutes
When theater comes to mind, people often think of the actors who have belted out an amazing performance or captivated the audience with their words. However, the equally valuable and necessary work of those that manage and point the limelight is less recognized. Mr. Gilmartin has been working at ASIJ for 15 and a half years as theatre manager and has directed lights and sound for some truly amazing school productions. He will retire after this school year. Here is a look into the career of the man who may not be on stage, but has served an essential role in making the productions at ASIJ come alive.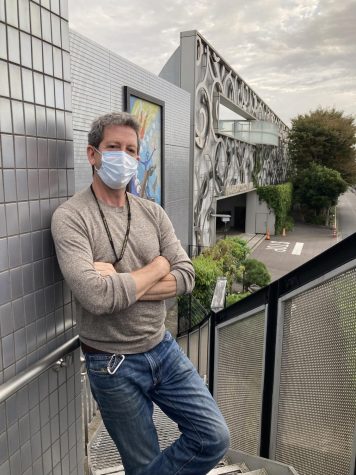 What's your primary job at ASIJ?
My title is theater manager. My position was created when the theater was rebuilt in 2006, so I was hired that year. As theater manager, my day to day responsibilities are maintaining the calendars for the black box and the main theatre — so scheduling people in and liaising with them for any event whether it's a class meeting, a club activity, or an assembly. I'm either liaising with kids (if they're club leaders), adults, directors, or administrators. I help them discover a couple things: a) what their needs are; b) what the limitations of the space are; and c) providing those things for them. Additionally, I'm responsible for the day-to-day maintenance of the space including the changeovers which usually involve extending or retracting the seats. Beyond that, I sometimes describe my position as a technical waiter. 
How did you get into theater management?
A job opening. I have my master's degree in acting so I was an actor by training before I moved to Japan. And I was acting part-time here in Japan in addition to teaching English, privately and at the elementary school level. Then one day, my girlfriend at the time — now my wife of 15 years — who knew I was looking for jobs in the international school market, said, "Have you seen the Japan Times today?" on a Monday when the jobs are listed. There was a job listing for a theater manager. So I looked at the job description and thought with my background as an actor and my six years of background in the US Navy — right out of high school doing computer repair — that it might be a good fit. 
What made you decide to work at ASIJ? 
I wanted to get back into theater in some capacity. I wanted to get back into theater full-time, not just be doing job to job as is often the case as an independent actor in New York, Tokyo, or any other city. It meant being able to be back in a space that I loved, that I was trained for, and full-time employment. 
What are some of the shows that you've directed?
On campus, I have been a co-sponsor of the One Acts for four or five years. I have had the opportunity to direct one play by a senior named Ravi Jain called The Shredder Room. Last year I directed Vertical Constellation with Bomb, and I directed The 15-minute Hamlet a few years ago with an amazing cast of mostly seniors. It's a comedic take on Shakespeares' Hamlet done in 15 minutes. It was just so much fun to direct. 
And then off campus, I've done a number of shows with Tokyo International Players, and Black Stripe Theatre. I directed The Crucible and ended up having to step to John Proctor eight weeks before opening because we had lost two John Proctors and it was too late to find another actor.
What would you say is your favorite production at ASIJ and why?
My favorite productions are the One Acts because I don't just play lighting and sound designer. Those are two roles I enjoy very much, but because I'm an actor by training, teaching that craft is close to my heart. I especially enjoyed those two shows I mentioned before, The Shredder Room and The 15-minute Hamlet.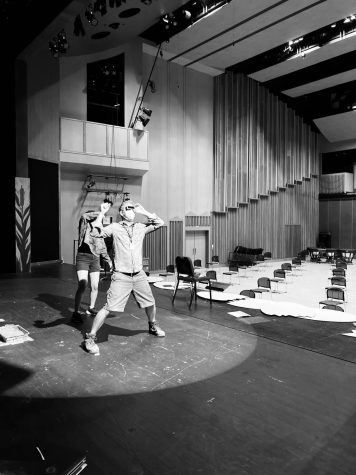 What can we expect from the MS musical and upcoming shows?
The MS Musical, Honk Jr., is going to be sweet, cute, and just what our community needs given what we have been through these last 18 or 20 months. We need something that's going to lift us up and remember why theater is important and why it's fun. 
Is it difficult to direct and plan shows during COVID? How does the absence of an audience affect the shows?
Yes, it challenges every aspect of the production, to less or more degrees. The absence of an audience technically doesn't affect much at all. Sound is affected because they don't have to bump mic levels depending on the audience, but lights are not affected much. 
It affects the actor the most as the audience is the final member of the cast. There is a feedback loop that happens during every performance. And that feedback loop was gone during recorded performances. So the actors, I can only imagine, had to try to create that for themselves in whatever way they could. That's really hard to do. 
How did you come to the decision to retire? 
My wife and I were having a conversation five years ago over summer vacation. It was at that time that I said, "Hey if we can reach our goals financially, how about we retire in five years?" And she was game for that. 
I've lost two sisters and my mother to cancer, and my dad died in his 40's from a stroke. I was diagnosed with Stage 3 colon cancer about ten months before starting at ASIJ. Luckily, the surgery that I had to remove the cancer was considered curative and I've had no metastasis or post-op treatments: no chemo, no drugs, no radiation. I've been lucky in so much as I've been clear since the operation. But since that time, and the loss of so many people in my family, it has made me look at life differently. Time shouldn't be wasted. I've had a fantastic, fulfilling 15-plus years at ASIJ, but it's fair to say I'm ready for the next adventure. 
What are your plans after leaving ASIJ?
There's a very good chance that we are going to be living in Thailand on the island of Koh Samui. There's a slight chance we'll still be in Japan; we haven't made a final decision yet. But in all likelihood, you can find me on a small island in Thailand doing yoga and sipping mango shakes next July. 
What would you say to those who are interested in pursuing theater either as an actor or behind the scenes?
Do it 'cause you love it. If you can imagine yourself doing anything else and being happy, do that thing. But if you have to do theater because you feel it in your blood, then thicken your skin and be prepared to work hard if you hope to achieve success or even a living wage.