Empowering Elementary Voices
Reading Time:
3
minutes
The Elementary Voice, ASIJ's elementary school newspaper club, returned with its second issue this fall following its inaugural publication last spring. Covering a range of topics from Spirit Day to the war in Ukraine, the staff of fourth and fifth-grade students spent the fall season reporting, writing, and designing for their own newspaper.  
Led by fifth-grade teacher Ms. Liao, The Elementary Voice was founded with the hopes of creating a chance for students to extend their writing skills beyond the classroom. Although nonfiction writing isofficially a part of the elementary writing curriculum, there are few opportunities for students to apply their learning to the real world. The Elementary Voice aims to teach elementary schoolers about journalism and give them a platform to express themselves to a larger community audience.
While the students may have entered the club with an idea of how to write a newspaper article, journalism requires more than just writing. In learning the journalistic trade, students picked up a toolkit of skills and strategies. Risako, a fifth grader who helped in gathering information for a story pertaining to Queen Elizabeth's death, observed that she learned important lessons in note-taking and research, stating, "[The club] taught me to look for important parts of the story and write it down."   
Ms. Liao, commenting on the interviewing skills that the students developed, said, "Getting that experience of having to ask someone [for an interview] formally is an important life skill…and knowing how to conduct yourself in an interview is important." Fourth graders Emily and Lina employed their newfound interviewing abilities for their profile of Ms. Takeuchi, a second-grade teacher.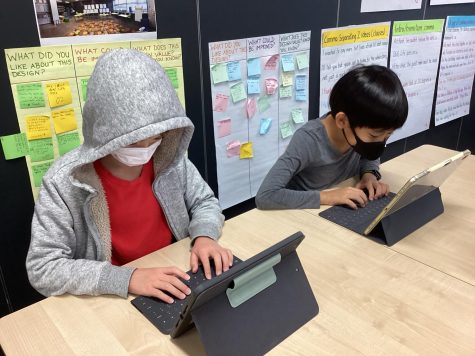 While honing students' technical skills, the club also encouraged members to become more effective collaborators and problem-solvers. Pete, Rii, and Cora, who all worked on drafting a single article together, explained that working as a team was a difficult yet rewarding experience. Their choice of photos, for example, was an initial point of contention. "[For] the pictures, we all didn't agree immediately, we all wanted our own pictures," Rii said. Although tough at first, both Rii and Pete said that the process of coming to a mutual decision was enjoyable. 
The staff also worked alongside high school students, with members of Hanabi helping to facilitate the creation of the newspaper. "One of my favorite things about the club was that we were able to collaborate a lot with upper [class] students; it was really fun getting to know them," Cora, a fourth grader, explained. 
The Elementary Voice not only offered an enriching experience for young journalists, but also provided readers with a unique, youthful perspective on current issues. On the importance of amplifying young voices, Ms. Liao said, "Children understand the way other children explain things better than sometimes adults can. I think it's important—especially for current events—to hear it from the voice of a kid."
Just two months after the club's first meeting, the issue was published in a special print edition distributed to each elementary school classroom. A unique mosaic of different voices and interests, The Elementary Voice serves not only as a platform for student opinion but also as a crucial tool for empowerment amongst budding journalists. Following the publication of the issue, Cora explained, "I felt very happy and accomplished—I felt like I had done something big for a lot of people and provided them with information."