Women Take the StuCo Spotlight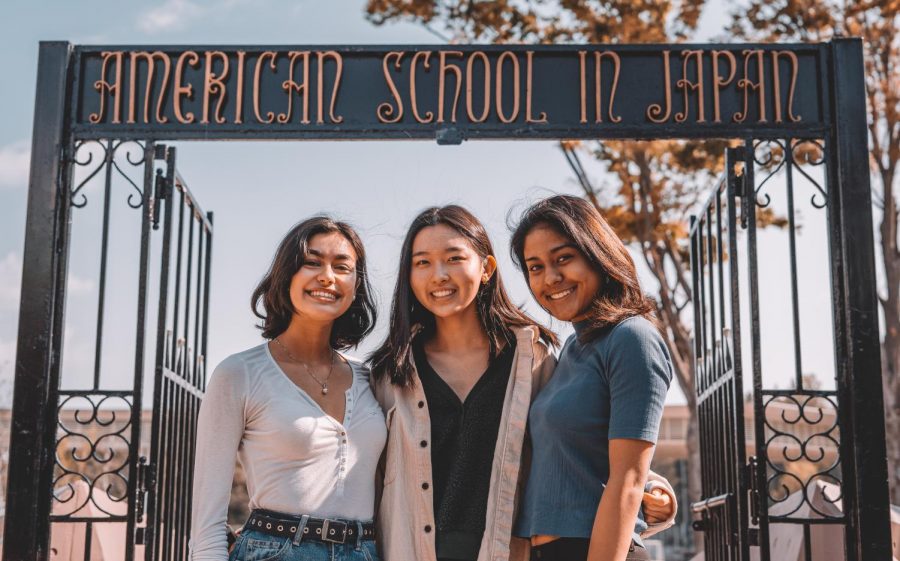 Article by Emma Rekate, Writer, Photographer
September 21, 2019
Hanabi is back up and running for the 2019-2020 school year! Now that students have found their rhythm in the new year, take some time to get to know this year's Student Council executives.
Last April, the American School in Japan made  history by electing its first entirely female executive Student Council team for this school year. Seniors Young Kim is our Student Body president, Mina Ghosh is vice-president of Community Life, and Maya Russell is vice-president of Governance. Not only is this the first time all women have been elected to the executive council, but they will also be the first students to be leading the school in the new StuCo structure.
In previous years, StuCo has been set up with the executive team: president, vice-president, and secretary; it also included grade-level presidents, and two student representatives each. This year's new model has one student body president, two vice presidents, two elected representatives per grade, and two appointed representatives per grade. Besides getting rid of the individual class presidents, the main change is the two new branches of StuCo, the Community Life branch and the Governance branch. It is hoped that this new system will be successful and effective.
In order to get to know what StuCo's new executive council, Hanabi spoke with them about issues and roles.
What are the issues that you will focus most on this year?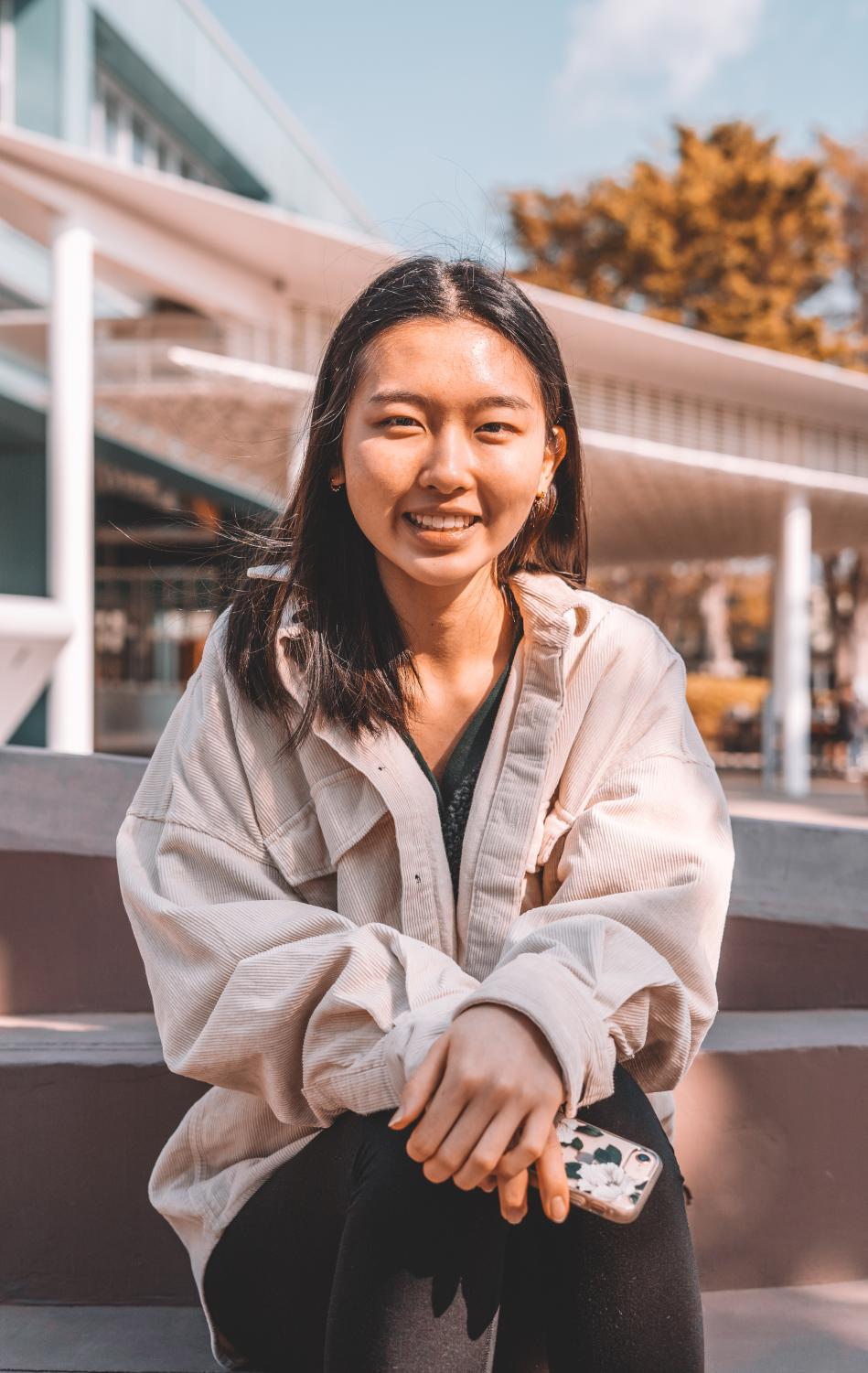 Young Kim (President): "Students aren't really being heard because the school seems, although it might not be their intention, to have a problem with transparency with the rest of the student body. I think that a lot of the time the changes are made for our benefit, but if we are not aware of them and there is no reasoning behind it, then it is easily regarded as disrespecting our opinion. I think StuCo comes into this because we are supposed to be the ones who are expected to improve that transparency, yet we are not being used by the school. So, I think that will be the main problem that we will be focusing on as a whole."
Mina Ghosh (VP of Community Life): "Some of the more interesting and unique projects that we are doing are that Young and I are thinking of making an ASIJ YouTube Channel based off of the channel Jubilee. We are planning on that because our school is so diverse and with that, students can get to know their classmates better. Another more personal issue I want to work on is the representation of staff, like bus drivers, guards, cleaning staff, and cafeteria staff, in the school. I want to incorporate them into our school better because they are like the backbone of our community, and without them, our school can't run."
Maya Russell (VP of Governance): "Fixing graduation requirements would probably be the biggest one, especially the P.E. requirement. Grade 9 and Grade 10 P.E. are obviously mandated, but for the final credit needed I want to create some sort of avenue if you are doing a sport you can mitigate that credit. Also, there are some issues with CID credits, where classes like Computer Science 1 and 2 are CID credits but AP Computer Science is not, which makes no sense. Another issue I want to work on is increasing admin transparency with students. If there is any implementable change occurring, I want students to be involved or at least know what's going on."
What changes or impacts have you already accomplished during your time in StuCo?
Young: "Because I've been in StuCo for three years, and although I feel like I've made a lot of changes this year by being more directly engaged with the graduation requirements project, and we did turn AP Computer Science into a CID credit, that was actually one of the minor credits that we wanted to make. Through the process of being in StuCo, I realized that this school, although it may seem like they make rash decisions for the students, has to balance the concerns of parents, teachers, and students, which all falls within the responsibility of the admin."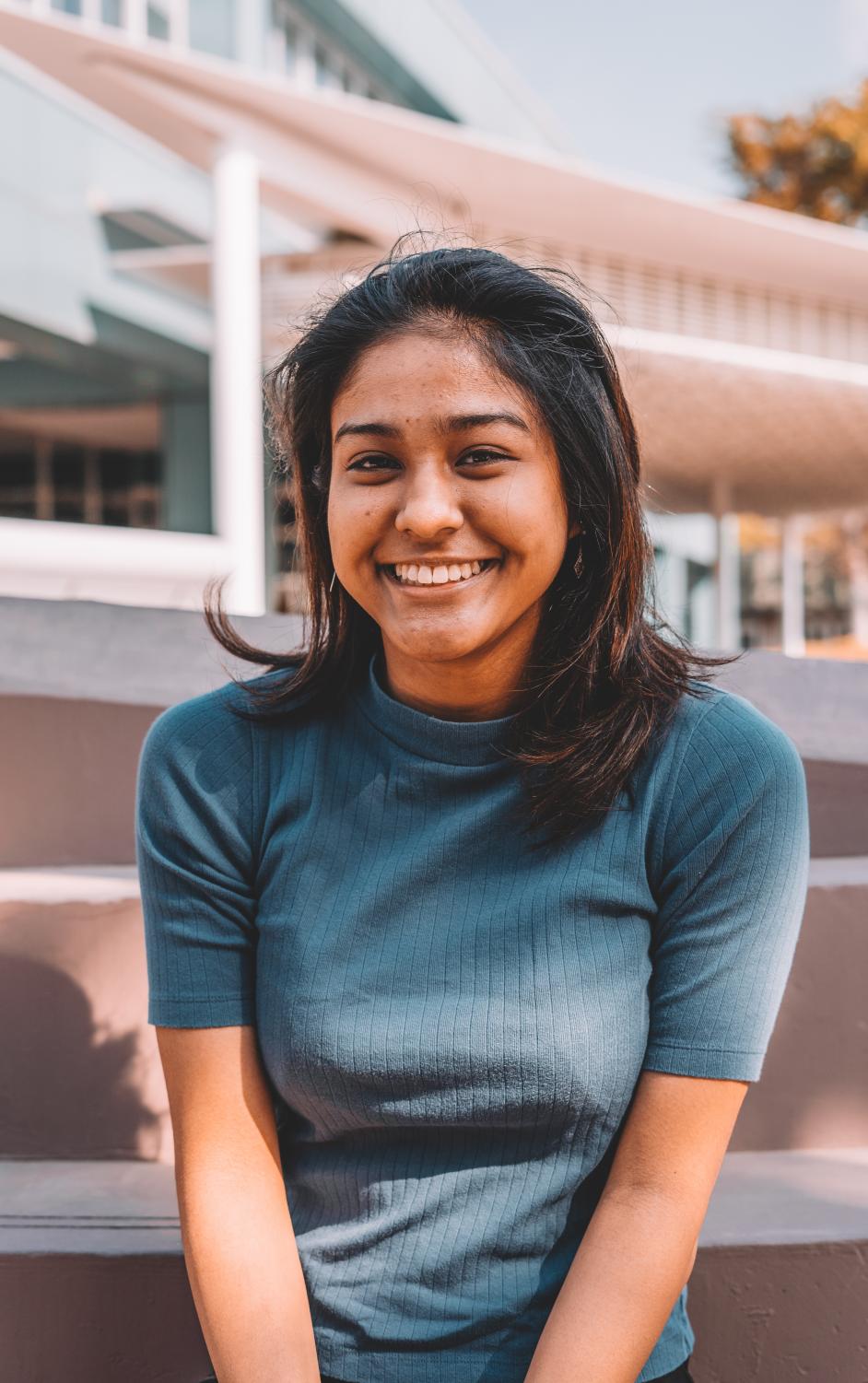 Mina: "The biggest change I can think of is the conflict checker feature on Edsby, which helps tackle the problem of assessment scheduling. When we took a survey at the beginning of the year, many students complained about having too many tests on the same day. Initially, we had set a rule of three tests per day, but that's still too much considering there are only four classes a day. So, we figured that teachers can plan better instead of all planning in one day. One day we had actually discovered that on Edsby, there is a conflict checker tool when teachers assign an assessment. When the teachers click on it they can see how many assessments each of their students have, and plan accordingly. "
Maya: "My time in StuCo is quite interesting because I only have one year of experience, which took place in freshman year. I ran for freshman StuCo as a representative and when our grade level president left, StuCo voted me in to be class president for the remainder of the year. I'm going to be honest, I really didn't make any implementable change. Then I quit StuCo for two years, and I came back because I realized that the structure didn't really allow for any change, especially since there was no separation between community life and governance. With the new system, I saw the capacity to make a change and directly focus on a certain issue. I didn't make a lot of change in my past, but the new structure will definitely facilitate it."
How has your experience at ASIJ helped you in being a successful StuCo member?
Young: "Because I have only been class president and class representative, and I didn't have any experience as an executive, I think my main responsibilities revolved around me being here for over ten years. It means that I have grown up with a lot of the people in our grade, and every time there are new kids I have to adjust. I think that's one of the main reasons why I did StuCo because I've been here for so long, and I feel like I can adapt to those new surroundings. I also think that ASIJ has groomed us well to state our opinion when asked to and even when students here feel hesitant to raise their hand and answer a question, I still feel like they are very good at articulating their opinion."
Mina: "I think being a faculty kid and being here since Kindergarten has helped me the most because time and experience allowed me to build an understanding of how the school runs and operates. But, obviously, I am still learning because people change and things change all the time. It also highly depends on who's here and who's not here because, with an international school, people are coming and going all the time."
Maya: "I think that seeing the problems at ASIJ and interacting with admin these past couple of years out of StuCo, I think there is something to be said about executive leadership as a rising Senior, because you've spent three years at this point interacting with teachers, understanding the environment, and how things run. I think that being out of StuCo for a little bit, not understanding new changes, and the lack of transparency, will make me successful because I know what it's like to be on the outside and share the perspective of the rest of the student body."
What is one major goal you have for StuCo next year?
Young: "The main goal would be to make StuCo an official part of the school policy processes. Whenever they're making a change, the school should make the change clear to us before they introduce it to the rest of the student body. It's really sad when StuCo can't respond when student ask us why this change was made. For example, the standards-based grading system. Everyone was kind of shocked at the beginning, and I couldn't really say anything. People were complaining to me that they didn't want to, but I couldn't say why they implemented it or why I can't change it. If the school helps legitimize StuCo instead of keeping us on the outside, then I think that it will make StuCo more successful."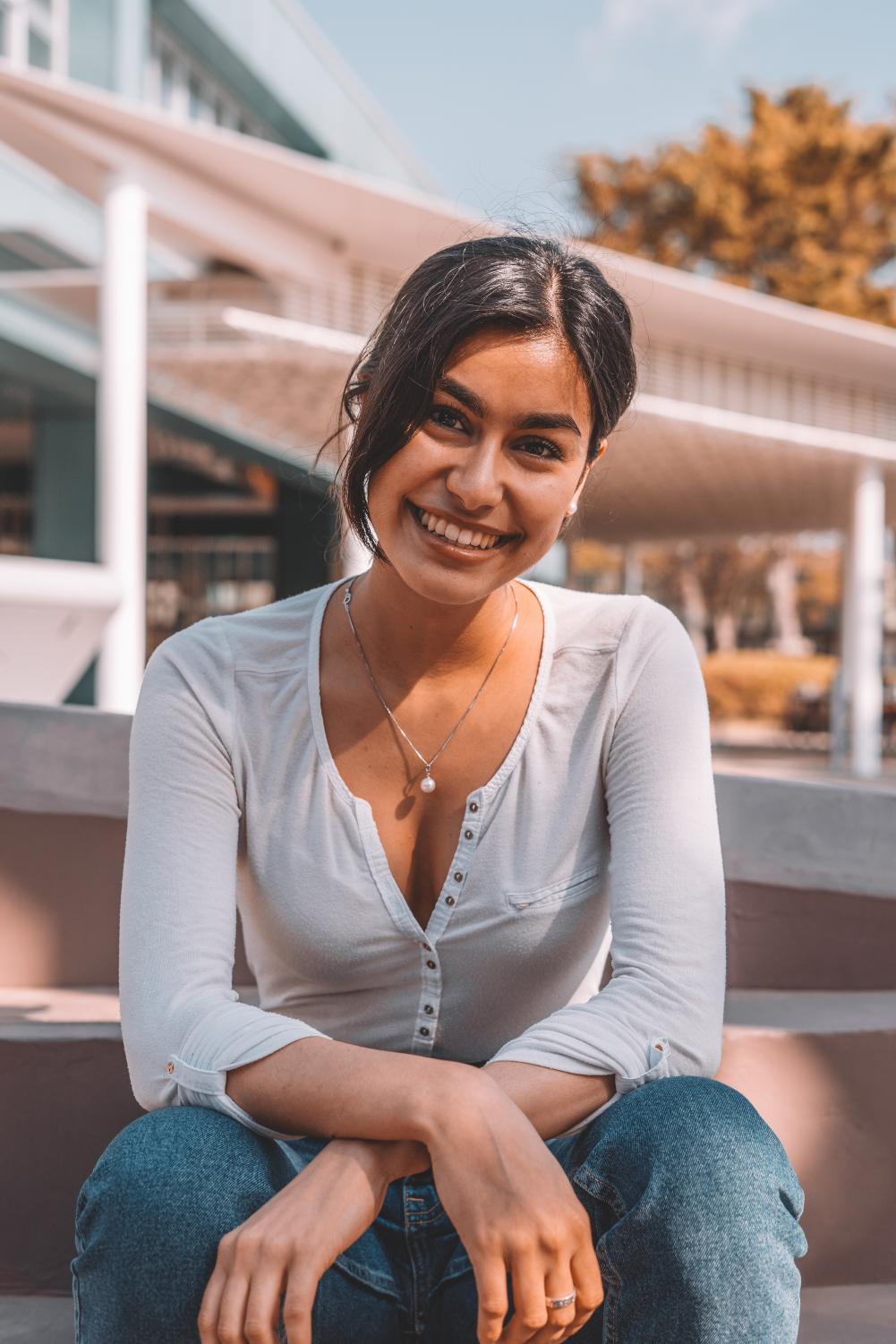 Maya: "I think that as a whole, StuCo is a unique and special opportunity. It is a council for the student, by the students. But, I think that is has a reputation of not getting things done and that it is good to put on your college applications. Even though everyone who applies is extremely passionate, I hope that we will be more transparent and unify the student body. And by doing so, I hope it shows the student body that StuCo is serious and that we are trying to do better. Whether that is through improving policy changes, or improving community life, and even just unifying our school more. I just hope to increase faith in student government and increase faith in our community. Which is what I believe everyone wants."
What strengths do you have that can help you next year?
Young: "I think if you've seen from previous elections, the people who have the interesting speech or the funny speech always win because you need to leave a big impression by using humor, and although those people might have the personality for a president, it can be hard to also have people who have organizational skills supporting that personality. I think that the main reason I've continued being a class president is that I am organized, and I have the tasks figured out. That will be one of the main things that will help me out."
Mina: "I think my experience [at ASIJ] and also, I have reached this point where I don't worry about how others see me. I used to be so worried about how people react to every single word I said. I would be so self-conscious of speaking out. That's why I did StuCo junior year, not freshman and sophomore year, because I was so worried what people would think of me."
Maya: "At its core, I think there are small things like being articulate or having the ability to think quickly, or having the ability to write lots of papers, like small organizational things which can help when you are cranking out documents and policies to present to the school. But, I think at most that what will benefit me is dedication, and, ultimately, dissatisfaction with the system. "
Besides StuCo what other interest do you have?
Young: "For me, it's baking. People who have known me for a long time, since like middle school, know because I would always bring baked goods to school. That's partly how I got to know new people. That's more of the creative side of me, and, after I get through college, I'm thinking of going to a culinary school. At school, debate and sports are mainly what I do. I run cross-country, and I think that has really helped me realize that underclassmen are to be inspired by and not be apart of that whole idea that people younger than us should be inferior."
Mina: "I am a very curious person in the sense that I always want to know about many different things. I love music, and I play the tuba for our band at school. I also really like to sing but I don't really do it publicly. I did do it in the musical in eighth grade. I am also really into sports. Basketball and soccer are my favorite, but I can't play them right now because I tore my ACL."
Maya: "School wise, I do cliched academic activities like speech, debate, sometimes MUN. Outside of school though, I like to read, especially philosophy, listen to music, hang out with friends. So, fairly normal stuff."
How do you want to leave your mark on ASIJ?
Young: "I feel like because I have been here so long, it was really exciting to get this position because, after twelve years of doing the same thing and going to the same school, it's interesting to see that I have the potential to make real change. When I leave, I want to know that people have a different view of StuCo. Generally, right now people just think that we organize tournaments, manage the class comps, and keep our school functioning somehow. Hopefully, future members know that it is not just a title, and we can actually make real change."
Mina: "I want to be someone who they reference back to in a good way. I don't have to have this huge legacy of making the school better. I think it really depends who's there at that time. So, I don't think there is one thing I can do to leave a legacy forever. I just hope I can do the best I can for the people who are here now."
Maya: "Change graduation requirements! But also lead an example of what a VP of governance can and should be, so that people following will take it seriously. I also because I wasn't part of StuCo for two years and showed back up in senior year, I hope that it encourages students who aren't on StuCo, that you can run for this opportunity, and it doesn't really matter about your experience but more about what you are going to do."
Anything else?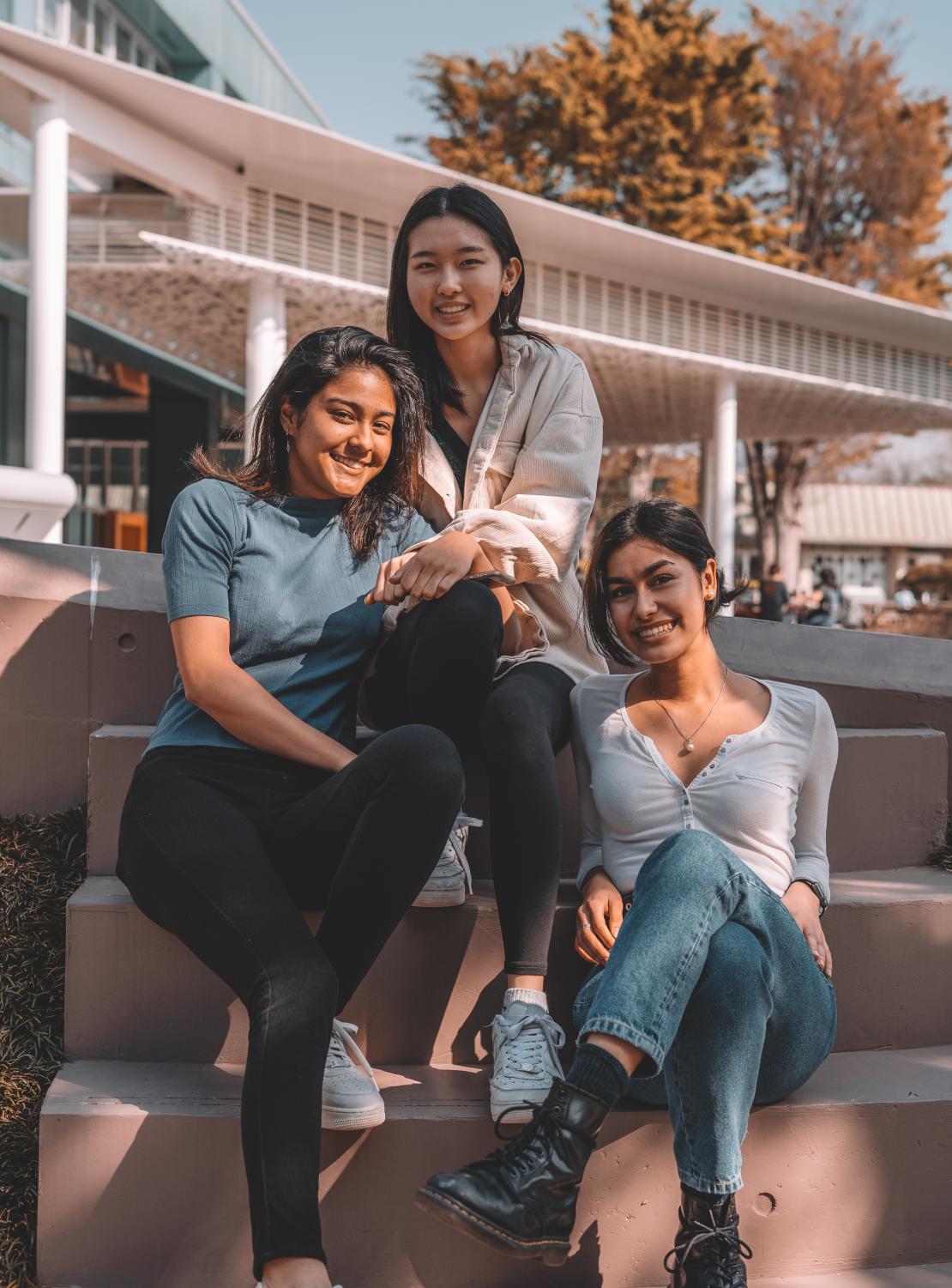 Young: "We are very excited! And one other new thing is that the admin is no longer a part of StuCo. Mrs. Bennet used to be one of the advisers, and now it is completely separated. StuCo is their own thing and the admin is their own thing. The new advisers are Mrs. Carreon, Mr. Bell, and Mr. Nelson. So, hopefully, next year we will be even more successful."
Mina: "I am very excited to be working with StuCo again this coming year!"
Maya: "I am super excited to be back on StuCo this year!"
About the Contributor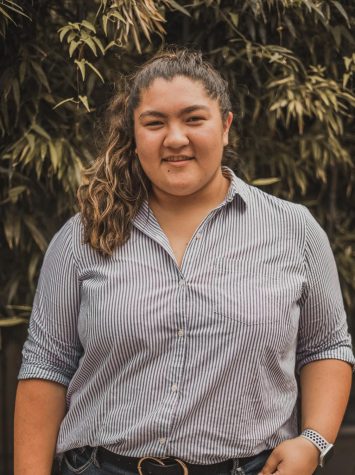 Emma Rekate, Writer, Photographer
Emma is a senior at ASIJ. She enjoys getting lost in the worlds of photography and film editing when...