COVID-19 and Social Life at ASIJ
Reading Time:
3
minutes
The COVID-19 pandemic has impacted everyday events all over the world. As high school students, who depend on social interaction daily, the changes have impacted us in a profound way. As the ASIJ campus has adopted a hybrid learning model, our chances to talk to and socialize with our friends and peers throughout the day have been diminished. Some of the major changes to our campus include splitting our lunch times, the loss of Activity periods, and extended Advisory time. 
The division of lunch periods (grades 9 and 10 begin to eat at 11, while grades 11 and 12 begin at 11:35) and the new spacing between the tables is the change that has impacted social groups in the most direct way, with some people being left out due to the 6-seat maximum. When asked, sophomore Eden Angerer commented, "For friend groups of 6 people, like mine, no one is affected, but also no one feels comfortable to join (because of the seat limit)." The new set-up also severely limits possibilities to socialize with members of other grades.
Another major schedule change made to help distance students was the removal of Activity block. Last year, students had a 40-minute break between blocks 2 and 3. This daily free time gave students opportunities to attend club meetings, meet with teachers, eat, talk to friends, or even do homework. It allowed students to attend to personal matters as well as interact with others, which is crucial in maintaining our mental wellbeing.
Advisory has been more integrated into our week, which comes with benefits and losses. Last year, Advisory was held for 40 minutes only on Thursday mornings, replacing that day's Activity block. The purpose of Advisory was and still is to help students have, in a sense, a "school family"—a designated group that will stay together up to graduation. 
Advisory also gives students time to discuss important matters such as school-wide events, Student Council elections, and content — such as videos about BLM or the LGBTQ community — that advisors discuss with the students to facilitate a better understanding of the world and themselves. The downside was that since students only gathered into Advisory groups once a week, many felt a lack of connection between their Advisory members.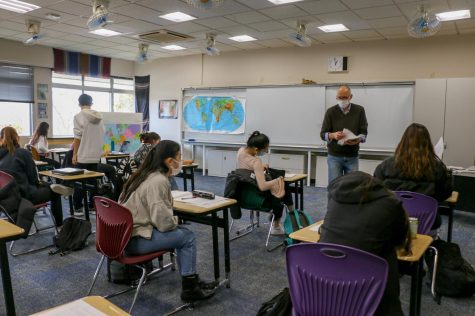 However, this year, Advisory happens during every on-campus day for 35 minutes. The extra time we had during lunch break has been replaced to facilitate this change. Since the groups meet more frequently, the possibility of fostering tighter Advisories and meaningful connections with classmates has heightened dramatically. However, the Advisory time cuts our lunch period in half, giving us 15 minutes less to talk to other students during lunch. 
This change, along with the loss of the Activity block, takes away a total of 50 minutes of independent time every day. "I sympathize with you guys, and I understand and feel sorry for what is getting taken away," said Dr. Jon Herzenberg, the high school principal. "As a psychologist, teacher, and human, I realize how hard it is for your freedom and social time during school to be taken, but unfortunately, in this 'new normal' way of life, it has to be done."
Though a majority of students understand the steps that had to be taken in these difficult times, it is also important to recognize the loss of a significant portion of our free time during the school day. The challenges of these changes are plentiful, but one fact can't be denied: they help create a safer environment where students can continue to grow and develop toward a post-pandemic world.