Jake Chon: Keep Calm, Vote Chon
Reading Time:
3
minutes
"As an elected student council representative for the past three years and member of multiple clubs and activities, I believe I have the experience, skills, and knowledge to represent the various perspectives of ASIJ. If elected, I hope to promote student life, student opportunities, and transparency."
Background: After a brief stint in middle school, Jake's interest in StuCo was rekindled during his freshman year due to a desire to participate more actively in student life planning, engage in policy-making, and leverage the ample free time afforded by online learning. Over the course of the past three years, Jake has had the honor of being elected as the StuCo representative for the class of 2024 — an achievement he takes immense pride in. 
Throughout the past three years of his high school career, Jake has amassed a wealth of experience both within and beyond StuCo that he believes would make him a qualified candidate for the presidency. In Jake's words, "I've placed great emphasis on student life, often working on class comps as well as leading the past three selfie knockouts — I've sent a total of 750 emails; you're welcome." Additionally, he has been actively involved in the governance aspect of StuCo, tackling various issues such as administrative-parent-student communication, dress code regulations, and more. 
Jake has cultivated a diverse range of experiences and connections beyond his involvement in StuCo, having participated in clubs and activities such as the Business Club, Sudachi, tennis, swimming, and baseball. "I believe this variety, both in terms of my experience as a grade representative as well as the people I can represent, will allow me to be successful in representing a diverse group of people for a myriad of initiatives and tasks," Jake says.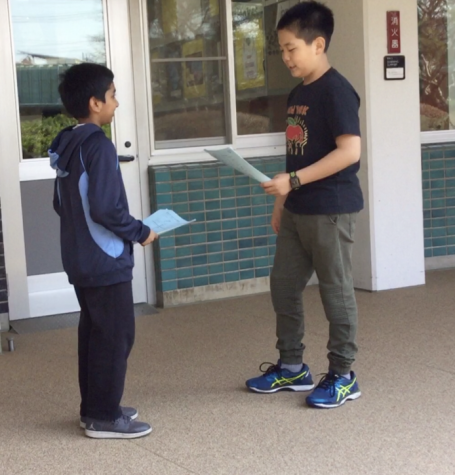 Platform: One of the most pressing issues Jake wishes to address is the lack of transparency between StuCo and the student body. While the Council has made significant strides this year in promoting its members, missions, and goals, Jake believes that it is imperative that StuCo improves its online and campus presence, ultimately making it more approachable and accessible to the wider student community. As president, Jake hopes to ensure that the voices of the student body are actively integrated into all StuCo discussions, fostering a more open and active relationship between the Council and its constituents. "I would like StuCo not to be a distant organization but an active presence in our community, where anyone can submit any concerns, suggestions, or ideas at any time," Jake tells Hanabi. 
An area of concern Jake has identified is the prevalence of social barriers between different grade levels. Jake acknowledges the positive impact that inter-grade dialogue and interactions can have on the quality of student life: "In my personal experience, I've had some of the most meaningful conversations with people outside of my grade, and from them, I've developed immensely valuable relationships," he notes. During his tenure as a StuCo representative, Jake has been actively working on breaking down such barriers by organizing events such as Selfie Knockout. As he sets his sights on assuming the mantle of student body president, Jake aims to not only expand Selfie Knockout but also to explore new avenues for students from all grade levels to interact and connect with each other.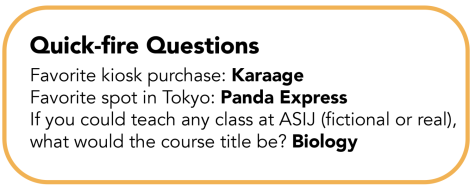 Key Issues: Jake has outlined three key areas he would like to focus on during his potential term: student life, student opportunity, and transparency. In terms of student life, Jake aims to continue promoting inter-grade dialogue amongst diverse groups through initiatives such as Selfie Knockout. Moreover, he has long been an advocate of real-world, hands-on learning and aims to expand opportunities for participation in meaningful educational experiences. In addressing the goal of transparency, Jake strives to be as open and accessible as possible to ensure that all students are informed of current issues and events at ASIJ. "Being student body president comes with a lot of responsibility, with an invitation to various conversations such as the Board of Trustees and the Kanto Plain Student Council," Jake notes, emphasizing the importance of transparency in such a position. 
Listen to What's the Dealio's exclusive interview with Jake to gain additional insight into his background, experiences, and platform.