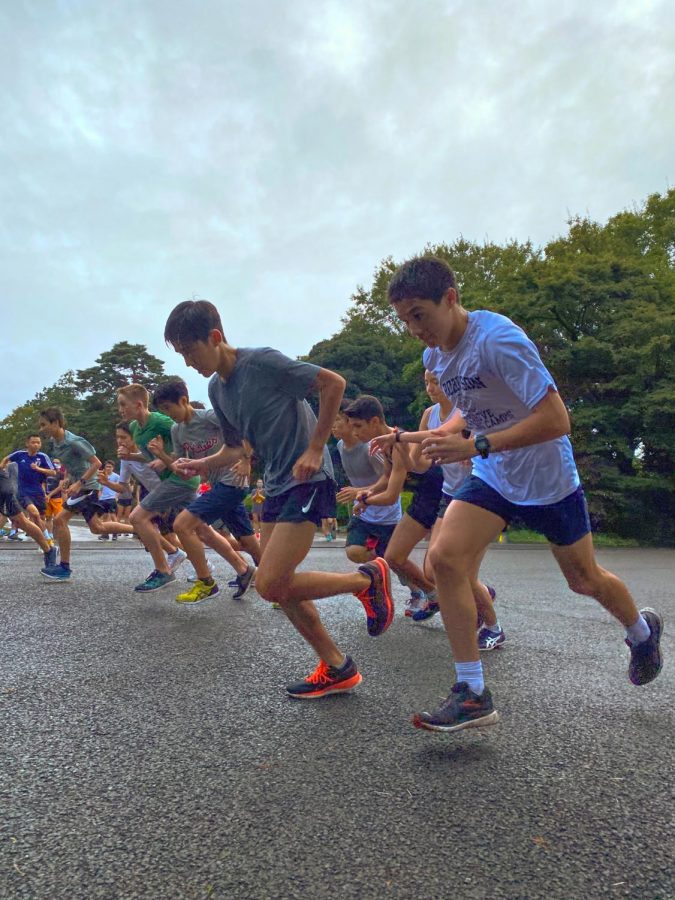 Reading Time:
3
minutes
On Friday September 25, the HS cross-country team held their first virtual meet. Our coaches mapped out a course in the nearby Tama Cemetery, a one-kilometer loop that we would complete five times. The way a virtual meet works is each competing school completes its own separate 5K race and then shares the recorded times with each other and compares them. These new circumstances were a bit different from our usual Saturday meets at Tama Hills but we were still able to run together as a team. 
Saci-Elodie Marty, a senior on varsity, commented, "The virtual meet was a lot less stressful because it was after school, and there was no lead up. When the races are in person, you get in your uniform, you eat right the night before, and overall you just mentally prepare yourself. The virtual meet felt like a time trial or just another normal practice." Another senior on varsity, Alex Fisker-van Veen added, "It was definitely different although I still felt nervous beforehand. Running against your teammates feels a lot more supportive than against other teams, which is kind of bad because you don't have the same level of adrenaline to make you run faster."
Senior varsity runner, Marina Ten Have explained, "It didn't feel that intense because it was just us, so I feel like we weren't in the race environment. It was kind of like a normal practice day. It was pretty nice, in my opinion, because I'm always used to running after school instead of in the morning. Also you're not that nervous for [the race] because you get it over quickly instead of waiting till Saturday!"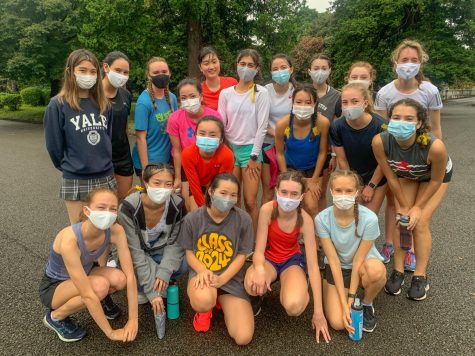 Overall everyone felt the race routine was different, with less pressure to perform without the presence of other schools. Marina added, "I didn't feel that motivated sadly because I didn't feel like I was competing with anyone. It's kind of like we were doing time trials." Alex agreed that having the meets on a weekday took away from the feeling of a race and competition, referring to past seasons when meets were always on Saturday. Saci clarified, "Having it be on a Friday made it feel like there was no way I could do well because I had spent the day and night before worrying about tests and not catching up on the sleep I lost throughout the week."
There is no doubt that COVID-19 has affected everyone and everything in some way, and the HS cross country season is no different. Saci said that she is "more focused on just running everyday and creating those habits for when I leave high school, instead of my times and pacing. This will be my last cross-country season so having fun running with people you love to be around is my whole purpose of being a part of the team."
Runner Alex concurred: "There is slightly less pressure to run fast and work really hard in workouts, but I honestly think it makes the season more enjoyable. Everyone is able to focus on their own level rather than constantly comparing themselves to others. There is a lot more independent running and the team spirit does not feel the same as last year because we are not training together everyday." Marina thought that it can be a bit hard to improve times and train hard because the team meets so little, and that it is challenging to build team spirit. She commented, "Hopefully we can get the hang of it though and start to bond as a team little by little!"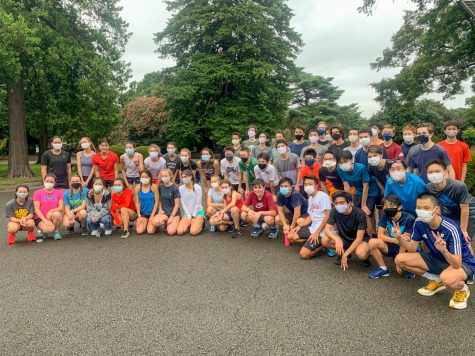 Although we only have a few in-person practices a week and opportunities for competition, spirit, and team bonding are diminished, HS cross country is one of those sports that can be self-directed. Focusing on the fun of running and self-improvement rather than competitive meets is not so hard to do in a sport that depends on personal motivation. I believe our team has the mental toughness to not only make it through the season but to make the most of it and have a fun season. If you would like a sense of what a cross-country meet is like in the Covid era, you can watch our September 25 recorded Meet here, on ASIJ TV.