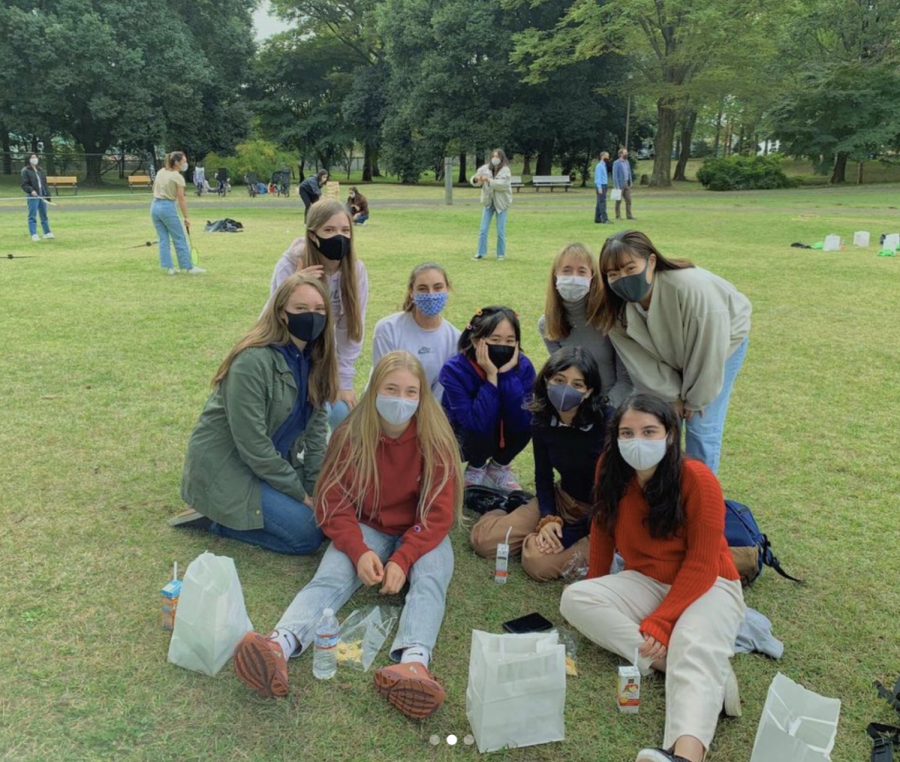 Reading Time:
2
minutes
On October 3, ASIJ seniors were surprised by the return of senior lunches. That Wednesday, an extended picnic lunch in Nogawa Park of burritos and cookies included games like badminton, giant Jenga, and tug-of-war. Then, in early November, seniors were rewarded with the return of the privilege to leave campus during lunch or free blocks. The Grade 12 class was pleased because there had been speculation and worry that these traditions might not return due to Covid-19 safety concerns. 
Most seniors were very positive about the changes. Toko Takeishi commented, "I was pretty happy when I got the email" about senior privileges. Julie Harada added, "Even before senior year, it's always been something to look forward to, not like a surprise." Isabelle Goodman said she would have liked "more of a heads-up" about the surprise senior lunch in the park, adding that many of her friends had already brought their own lunches. 
In talking about about senior privileges, Isabelle added, "I really don't understand what's changed where they are like 'oh, now you can go'," and Julie echoed her confusion: " I don't really understand why we didn't have senior lunches in the first place because most people would be wearing masks; we were all going to be following protocols even if we went outside of campus."
When I spoke with HS Principal Dr. Herzenberg about the planning that went into senior privileges, he had just the answer: "Mask wearing and hand washing and everything has worked out so well because of student collaboration," so the administration reflected and came up with new ideas. Those in the administration who worked on the return of these senior traditions considered what aspects of campus life could safely return, even though we remain in the hybrid model.
Dr. Herzenberg explained there was a two-month process of creating October's senior lunch for students. Director of Student Life Mr. Nelson and Dr. Herzenberg were constantly going back and forth between different iterations to create a "great moment for students." They immediately ruled out parents coming to school to cook food due to safety concerns, but then immediately asked the question, "What could we do that would emulate that and preserve the tradition?" In figuring out a solution, Mr. Nelson and Dr. Herzenberg kept in mind the desire to create "'a hug for the heart' in terms of what it means to be a student." They settled on using the school cafeteria for the meal and taking it off campus, resulting in the Nogawa Park lunch that seniors enjoyed in early October. 
After all that preparation work, the reaction to revealing the secret was definitely worth it. Dr. Herzenberg talked about the "endearing and rejuvenating" feelings he and Mr. Nelson had after seeing "people transform in the most sweet way into five- or ten-year-old kids; jumping up and down." Dr. Herzenberg explained, "It was awesome. I think the only people that knew were Dr. Augustine, myself, Mr. Nelson, and Dr. Hardin, and we didn't tell the faculty or teacher advisors. I don't even think that the grade level coordinators knew." The transformation of seniors from tiredly "going through the motions" to looking happy and excited inspired Dr. Herzenberg and Mr. Nelson to try to create more of these events not only for seniors, but possibly for other grades too. 
Amid the first-semester pressures of school and college applications, seniors were grateful to Dr. Herzenberg, Dr. Augustine, and Mr. Nelson, and StuCo for "making them feel special" during the continued pandemic restrictions.